Lila is becoming such a little person. It's a gift to watch a child develop. She recently started giving hugs. Feeling her skinny little arms snake around my neck while she gives a squeeze, or even better, a deliberate pat, is pure bliss. She talks a bit, jabbers a lot, and has begun singing, really more of an off-tune warbling, but all I hear are angels.
Lila doesn't like to wear clothes, but after a week straight of finding her naked in a wet bed, we got smart. She now goes to sleep with a pull-up, panties, a onesie and pajama bottoms on. We've been dry for three days now.
Lila does like to draw. I feel like the father buying football jerseys for his newborn son, whenever I get out the crayons, but she truly enjoys it. I will buy a big sheet of posterboard, put it on the floor with crayons, and a couple days later have a masterpiece.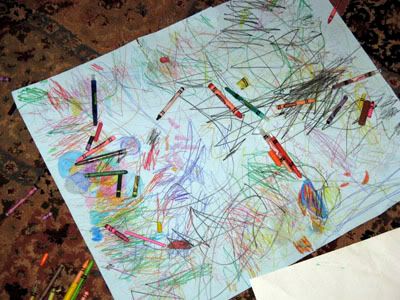 Forgive me if in a detail of her scribbles, I see the depth and precision of a Pollock